---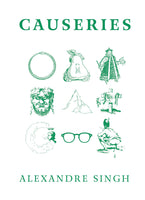 Its title derived from the French word causer, meaning to chat or talk informally, Alexandre Singh: Causeries details a series of encounters between artist Alexandre Singh (France, 1980) and various academics, writers, scientists and philosophers. In residency at Witte de With, Rotterdam, in preparation for his ambitious play The Humans, Singh set up a public discussion series exploring the key themes and concerns of his developing play, such as dance, drama and religion (to name just a few).
Aiming at an alternative form of public conversations over the course of nine months, Singh engaged the invited speakers in deliberately informal conversations on such wide-ranging topics as Woody Allen, Hindu cosmogony, Aristophanes, South Park and scatology to contribute to the research behind his play The Humans. How have power, prostitution, and performance techniques influenced theatrical costumes? What does mankind make of mountains? How does an individual's voice reflect a society's? In making these sessions open to the public, audiences were given the opportunity to participate and obtain an incredible insight into a part of the artistic process typically hidden from view.
With introductions by Witte de With Director Defne Ayas and Alexandre Singh, the edited selection of twenty-nine conversations collected in Causeries re-frame those chats as discursive investigations into the nature of creation, influence, and existence.