---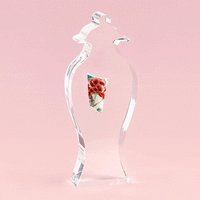 Kunstinstituut Melly is pleased to announce a new limited-edition by Dutch artist Bouke de Vries (b. 1960). The edition includes 30 original sculptures and two AP. Proceeds from the sale of this artwork benefit the exhibitions and educational programming at the institution. Each comes with a certificate of authenticity signed and dated by the artist.
Bouke de Vries
30 Pieces, 2020
Porcelain cast in resin
240 x 100 x 40 mm
Edition of 30 + 2 AP
Note by the artist: Fragments of an 18th century Chinese porcelain vase from the Qing dynasty have been cast in a resin outline of the original shape of the vase. The fragments were roughly placed in the area where they would also have been placed as part of the original vase. Each person who acquires a sculpture thus becomes the custodian of a fragment of the vase and can be seen to form their own community.

Cleaning instructions: For cleaning, use warm soapy water and a soft cloth. Abrasives and chemicals will cause the acrylic to lose its optical clarity.
1.500 Euros, per sculpture
21% VAT surcharge applies for all sales in EU
To acquire or to inquire about the work: store.ronmandos.nl
------
In creating this work, fragments of an 18th-century Chinese porcelain vase from the Qing Dynasty are cast in a resin sculpture. De Vries's translucent sculpture is itself modeled after the profile of the original porcelain. The 32 pieces that make up the broken porcelain vase, if restored to its original shape, also make the total number of sculptures by De Vries. Each single porcelain fragment is now encapsulated into one of Bouke's sculptures. For the artist, "crystallizing these porcelain fragments relates to the way memory captures a precise historical moment."

Commissioned by Kunstinstituut Melly, the limited-edition artwork 30 Pieces (2020) by De Vries is inspired by An exhibition with works by Athos Bulcão, Marcos Castro, Anna Franceschini, Ni Haifeng, Nicolás Lamas, Praneet Soi, Adriana Varejão, Ana Vaz, Bouke de Vries, Raed Yassin, Karlos Gil & Belén Zahera and the artist's longstanding fascination with historical ceramics, as much as his investigation of art as a memory vessel or time capsule. Like an insect captured in amber, each of the sculptures in 30 Pieces contains a part of a whole, turning it into an artistic vessel or cultural custodian of something from a time of the past. Together, the 30 sculptures that form the edition contain the pieces that complete the original vase, and therefore, the shape of the work.