---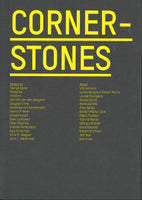 Which artists have laid the foundations for contemporary cultural production? Between 2008 and 2009, Witte de With Center for Contemporary Art held a monthly lecture series, posing this very question to leading art historians and critics, each of whom was asked to speak on the work of an artist of their choosing.
A selection of these insightful lectures has been assembled into a book: Cornerstonesfeatures George Baker, "The Squatter: Reconsidering Picasso's Les Demoiselles d'Avignon";Donald Kuspit, "The Phallic Woman: Conflict and Fragmentation in Louise Bourgeois's Concep­tion of the Female Body"; Chantal Pontbriand, "Yvonne Rainer—from Choreography to Cinematog­raphy: The 'Idea of Community'"; Ina Blom, "Videosociality: Rethinking the Social Memory in 1970s' Video Art" [on Lynda Benglis and Robert Morris]; Douglas Crimp, "Action around the Edges" [around the practice of Gordon Matta-Clark]; Anne M. Wagner, "Acconci and the Senses"; Peter Osborne, "An Interminable Avalanche of Categories: Medium, Concept, and Abstraction in the Work of Robert Smithson (or, Against 'Sculpture')";Dominic van den Boogerd, "René Daniëls Revisited"; Helmut Friedel, "Gerhard Richter's Palette Paintings"; Kaja Silver­man, "Behold the Invisible" [on Jeff Wall]; Mieke Bal "Earth Aches: The Aesthetics of the Cut" [on Doris Salcedo]; John C. Welchman, "Fête Accompli: Mike Kelley's Day is Done"; Sven Lütticken, "Gerard Byrne's Talking Pictures: Different Repetitions in The New Sexual Lifestyles and 1984 and Beyond"; Dorothea von Hantelmann, "On the Socio-Economic Role of the Art Exhibition."
Engaging distinct methodologies—from personal narrative to the close-reading of a single work, through social interpretation and philosophical analysis, which tends to challenge the underlying premise in question, that of the centrality and nature of the individual artist—this rich collection of essays foregrounds a historical approach to the contemporary, all the while refusing the formation of a new canon.
COLOPHON
—Year Published
2011
—Category
Publication
—Colophon
Editors
Juan A. Gaitán, Nicolaus Schafhausen, Monika Szewczyk
Lecture Series Curators
Renske Janssen, Nicolaus Schafhausen
Graphic Design
Kummer & Herrman, Utrecht
Production
Juan A. Gaitán, Monika Szewczyk
Image Rights
Renata Catambas, Juan A. Gaitán, Monika Szewczyk
Copyeditor
Leah Whitman-Salkin
Lithography and Printing
platform P, Rotterdam
Price
€22
ISBN
9781934105481
Publishers
Sternberg Press, Witte de With Center for Contemporary Art