---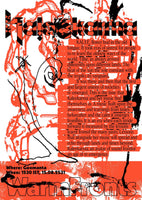 Kaleekarma (India) is foremost a storyteller. She uses music as the medium to weave together a richly detailed tapestry of theatrical tales. She is drawn to organic, ethnic, retro, acid and folk sounds. Her recent performances include Magnetic Fields Festival Nomads'21, Mixmag's Lab Mumbai edition, and Mixcloud's Future Rising India edition. She currently runs a show called Kindled Love on Boxout.fm.
To see the full DJ sets, please click here.
Poster designed by Jonathan Castro Alejos and screen printed by Brent Dahl as part of Kent Chan's exhibition at Kunstinstituut Melly, Warm Fronts.
594 x 841 mm, silkscreen on Fedrigoni Freelife Vellum paper (200gsm)
Edition of 12