---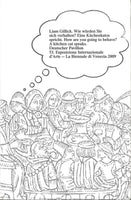 This catalogue was published on the occasion of Liam Gillick's exhibition at the German Pavilion, 53rd International Art Exhibition – La Biennale di Venezia 2009, June 7 – November 22, 2009.
The book documents Gillick's project for the German Pavilion. It contains an introduction by the curator Nicolaus Schafhausen, a text by the artist Liam Gillick about his work as well as the text spoken by the kitchen cat presented in the show: "She speaks from the present and fights against the echoes of building's interior. Its history is one of misrepresentation, misunderstanding and desires. Thus, the pavilion becomes a location for endless self-circulating histories that – in the end – represents our history as well."
COLOPHON
Year Published
2009
Editor
Nicolaus Schafhausen
Format
164 pages, 40 color illustrations, soft-cover
Conception and Design
Liam Gillick in collaboration with Markus Weisbeck/Surface.
Editorial work
Eva Huttenlauch, Angela Johnston, Vanessa Joan Müller
Translation
Barbara Hess, Eva Huttenlauch, Vanessa Joan Müller (English/German), April Lamm (German/English)
Installation views
Liam Gillick
Printed at
Druckerei Otto Lembeck, Frankfurt am Main
ISBN
978-1-933128-74-0
Publisher
Sternberg Press, Berlin