---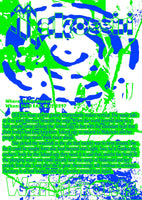 Makossiri (Kenya) is an electronic music producer/DJ who makes club music that defies genre limitations. Rich in narration and soaked in a cinematic atmosphere, her sets are a blend of experimental music, hard techno, psy-trance, industrial noise, and African rhythms often mixed in with her own live vocals, outer worldly sounds, and elements of Afro-Futurism and Egyptian mythology.
To see the full DJ sets, please click here.
Poster designed by Jonathan Castro Alejos and screen printed by Brent Dahl as part of Kent Chan's exhibition at Kunstinstituut Melly, Warm Fronts.
594 x 841 mm, silkscreen on Fedrigoni Freelife Vellum paper (200gsm)
Edition of 12